The other morning I was planning on making banana nut muffins and halfway through throwing all the ingredients in a bowl I realized we were out of bananas! So… I improvised and made blueberry pecan muffins instead (totally made that up on my own!) and they are delicious!
The blueberries come from a beautiful, tiny farm on the top of a mountain in Tennessee where Brandon's mom's family is from. We traveled up there for a family reunion last year and as we were driving around happened to notice this tiny farm owned by a young family. They support themselves by selling fruit, veggies and pillowcase dresses. (I'm kicking myself for not getting a dress for Shiloh!)
Brandon thought I was off my rocker because I was SOOO excited when I saw that you could pick your own blueberries! As a "Whole Family" we picked 2 pounds of blueberries and ate them with ice cream for days. They are DELICIOUS! We happen to still have some frozen and they are perfect in these muffins. Hopefully you have some wonderful, story behind them, blueberries for this recipe as well!

Here's what you need:
2 cups almond flour
1/4 cup flaxseed meal
2 tsp cinnamon
1 tsp baking soda
1 tsp baking powder
1 1/2 cups pecans
1 cup blueberries
4 tbsp unsweetened applesauce
4 eggs
1 tsp vanilla extract
Here's what you do:
Preheat oven to 375 degrees F.
Mix all ingredients, except blueberries, together.
Fold in blueberries.
Fill greased muffin tins about 3/4 full.
Bake muffins for 25 minutes.
Hope you love these as much as we do!
Linked up here: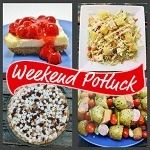 The following two tabs change content below.
Hello, I'm Jacque. Thanks for stopping by! At Whole Family Strong our desire is to challenge you to get back to the basics both spiritually and physically, as a family. We hope to encourage your family to eat whole foods, exercise, and dig into the word, together. Friends, let's walk this journey together as we continue to make our own whole family strong.
Latest posts by Whole Family Strong (see all)