Whew! What a day. Every 3 months we take the dreaded hike to downtown Houston to visit our pediatric endocrinologist.
Why is it dreaded, you ask? Well, let me tell you. The drive takes an hour without traffic, 2 hours with. We got both today. Finding Children's Hospital is a fun adventure all on its own and results in far too many illegal u-turns. We sit in a waiting room that leaves my over-reactive imagination believing that my children are going to leave with every germ known to man and my OCD kicks in and I end up using an entire bottle of hand sanitizer on their dried up hands. Come on moms, you know I'm not alone here.
Then the dreaded A1C test. Aaahhh!!! Seriously, that test feels like the "mommy report card" and I feel like I am either going to pass out or be taken away in handcuffs until they tell me what it is and it's good. It's torture I tell you, torture! The worst part? The waiting. Then the waiting. And of course, the waiting. Did I mention the waiting?
Yay us, we made it out alive, intact, not in handcuffs, without any major meltdowns and it only took us 7 hours from front door back to front door. I call that a success! The best part? Jeremiah's a1c was 6.3 which is fantastic. Time to celebrate a great visit with brownies!
Yesterday I was roaming the aisles of Krogers and stopped at the boxes of brownies. I studied the different types, there were a bunch, and decided that the most tempting brownies had to be the walnut chocolate swirl ones. OMG they looked delicious.
Was I tempted to buy them? No. Did I want some brownies? Heck ya! I bought a bunch of ingredients right then with some ideas from various boxes and websites, at 10 o'clock at night, and got to work. What did I end up with? The most delicious, guilt-free brownies EVER!
Wanna try them? You bet you do. Your whole family is going to be begging for these wheat-free, dairy free, scrumptious brownies. Make them for a get-together and I betcha no one will believe they are made with whole foods and not from a hoowtie-toowtie bakery. Yes, they're that good.
Okay, I won't keep rambling. It's time to make brownies!!! Btw, I can't find the memory card for my camera (major, major bummer) so this phone pic will have to work for now. Either way, they taste amazing!
Here's what you need:
1 Jar (12 oz) Smooth Almond Butter
1 Cup Raw Honey
2 Eggs
1/2 Cup Cocoa Powder
1 Tsp Baking Soda
1/2 Tsp Fine Sea Salt
1 Tbsp Vanilla
1/2 Cup Chopped Walnuts
1 Tbsp Coconut Oil
3/4 Cup Dark Chocolate Chips
Here's what you do: 
1. Melt chocolate chips either in microwave or double broiler and set aside.
2. Pour almond butter, honey and eggs in a large mixing bowl.
3. With handheld mixer, mix until well combined.
4. Add cocoa powder, baking soda, salt, and vanilla. Mix well.
5. Fold in walnuts.
6. Grease 9 by 13 in glass pan with coconut oil.
7. Pour in brownie mix. It will be thick so be sure to spread it evenly in pan.
8. Pour melted chocolate in 4 straight lines across brownie mix. Using a knife, gently swirl through the lines and brownie.
9. Bake at 325 for 35 minutes.
10. Devour!!!
From our Whole Family to yours….. 
Love the recipe? Be sure to follow Whole Family on Facebook for more ideas on how to be physically strong, spiritually strong, and family strong.
Linked up at: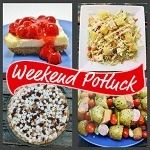 The following two tabs change content below.
Hello, I'm Jacque. Thanks for stopping by! At Whole Family Strong our desire is to challenge you to get back to the basics both spiritually and physically, as a family. We hope to encourage your family to eat whole foods, exercise, and dig into the word, together. Friends, let's walk this journey together as we continue to make our own whole family strong.
Latest posts by Whole Family Strong (see all)