Let's be real together for a moment.
Can you think of time in the distant past when you didn't feel tired? For me, I would say sometime back in our BC days (before children).
Daily bit my husband and I share (It used to annoy me that he always responded like this, and now I get upset if he forgets):
Me: "I'm tired"
Husband: "Hi, Tired."
While I am very much aware of how silly this sounds, it is true on so many levels. We run around taking our kids here and there, cleaning the house (I know I'm not the only one who feels like this is mostly a waste of time), work, school, Tae Kwon Do classes, gymnastics, soccer, play dates.
Ok, ok, I'll stop there. You get the idea. It's no wonder that a day doesn't go by where at some point, we think to ourselves, "I'm tired". And it's not just physically tired, is it? It is emotionally and spiritually as well.
How do we find balance in this crazy race we call life?
How do we find the time to take care of families, our bodies and ensure our relationship with God remains first and active?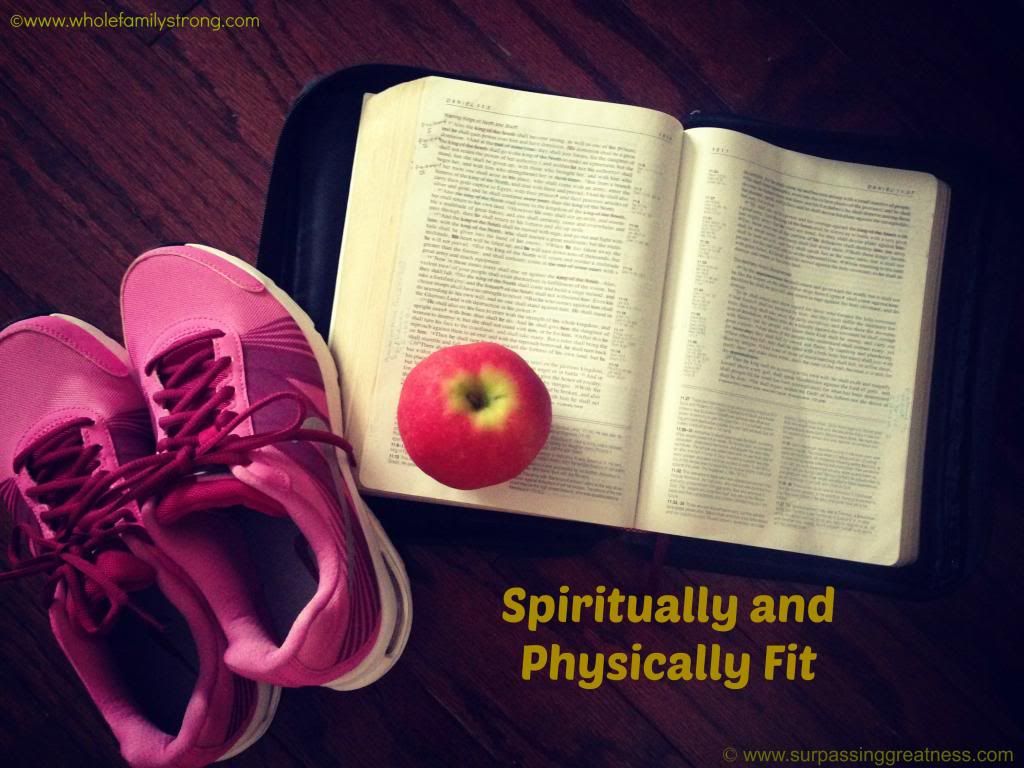 In order to be the vessels God desires for us to be, we have to be spiritually and physically fit.
How we can bring glory to God's name through our lives when we are always running ragged?
Wouldn't you agree that most of the time we think "I got this"? But in reality that is so far from the truth that it is laughable. But God can't work in our lives until we reach that point where we acknowledge that we can't do it all on our own.
We NEED Him!
We need to let go and let God work in our lives.
Does this mean that we may have to let some things go? Perhaps. Maybe we watch to too much television, or maybe we are over-committed.
Join me in evaluating our lives and see where our priorities are placed. So I have proposal, or shall we say challenge, for us.
Join me over the next five weeks as we reevaluate our lives and focus on finding a balance, spiritually and physically.
God comes first before all else, then our family and friends but we also need to care for our own bodies. We throw all sorts of food in our bodies that aren't healthy but are just quick and easy, and then we sit on the couch and stare at the TV in our free time and we wonder why we never recoup.
If we would instead, take the time to refresh our spirits in the Lord and rejuvenate our bodies with proper food and exercise, we would have more energy to give to our husbands, wives, children and friends!
Spiritually and Physically Fit – Three Part Challenge
1. Spend time daily in the Word: While every season will be different and unique and present its own challenges, we need to make God a priority always and every day. On those days where I don't at least read from His word first thing in the morning or talk with Him, I find that my anger and anxiety rises more quickly within me and is reflected in my response to others around me. He must be first in all things; the first person we look to when we encounter a problem or issue. Join me this month in reading through the book of James. We can spend time each day reading the passage and then reflecting on how we can apply the truths laid out in those verses that very day. I have laid a schedule out below.
Week One – James 1
Day 1 – 1:1-8
Day 2 – 1:9-18
Day 3 – 1: 19-21
Day 4 – 1:22-27
Day 5 – Reflection on whole chapter
Week Two – James 2
Day 1 – 2:1-7
Day 2 – 2:8-13
Day 3 – 2:14-19
Day 4 – 2:20-26
Day 5 – Reflection on whole chapter
Week Three – James 3
Day 1 – 3:1-6
Day 2 – 3:7-12
Day 3 – 3:13-16
Day 4 – 3:17-18
Day 5 – Reflection on whole chapter
Week Four – James 4
Day 1 – 4:1-6
Day 2 – 4:7-10
Day 3 – 4:11-12
Day 4 – 4:13-17
Day 5 – Reflection on whole chapter
Week Five – James 5
Day 1 – 5:1-6
Day 2 – 5:7-12
Day 3 – 5:13-16
Day 4 – 5:17-20
Day 5 – Reflection on whole chapter
2. Diet Changes: I confessed to you in my last Whole Family Strong post about my struggle with sugar which consumed in copious amounts just makes you even more tired! So, I started the 21 Day Sugar Detox again on April 21. Now, I'm not asking you all to join me in the detox but certainly feel free to give it a try. If the detox or the Paleo diet seems too overwhelming at this moment in your life, what about making a small change? Maybe stop drinking soda for a month and drink tea instead, or pledge to not eat any candy or cookies or pizza. Think about your current diet and the foods you turn to when you are stressed and tired and start by cutting those out.
3. Exercise: As a Pilates instructor, I naturally believe in the importance of exercise. Exercises invigorates us and provides us with more energy. Will you pledge to work out at least three times a week? There are so many options today. You can take classes at your gym through the group fitness or personal training departments, go to a yoga or Pilates studio, run outside or on a treadmill, use a work out DVDs or videos on YouTube. There are even websites that have entire month long programs set up. So many options. Don't hesitate to ask me questions about these options. I would be happy to give you some ideas! To learn more about Pilates, you can read about my Pilates journey HERE on my blog.
Every Friday, I will post a quick update on my blog checking in with your progress, reflecting on what I learned in James and how I am doing.
Will join me?
Let me know in the comments or via my Facebook page and blog! What are you cutting out of your diet? How are you adding in exercise? I could use some accountability partners along the way!
The following two tabs change content below.
After struggling with infertility for five years, God led Suzanne Meledeo and her husband, Adam, to His Plan A for their lives—adoption! They brought their daughter home from China in 2011 and their son in 2013. After a career in DC politics, Suzanne now lives in San Antonio, TX where she works as a Pilates instructor while home schooling their children, advocating for orphans, writing and managing her autoimmune issues and daughter's psoriasis with a Paleo lifestyle.
Latest posts by Suzanne Meledeo (see all)